NEW

Calendars + Stationery

TEA TOWELS, TOTES + BAGS

HATS

CANDLES
WHAT WE DO
The Artistry of Hope
Liz Shea Designs offers a one-of-a-kind original art in an array of products that are both useful and delightfully uplifting. Each piece of Liz's art is a kaleidoscope of bold, electric color applied with sweeping strokes of unfettered brilliance. Her designs utterly dance on such products as calendars, stationery, tea towels, totes, and more.
Liz has been sharing her art with eager customers for over 30 years. When her husband Ed was diagnosed with ALS (Lou Gehrig's Disease) in 2000, she shifted her focus to raise ALS awareness and  so that proceeds from sales benefit research toward finding a cure for ALS.

Together we can all make a difference.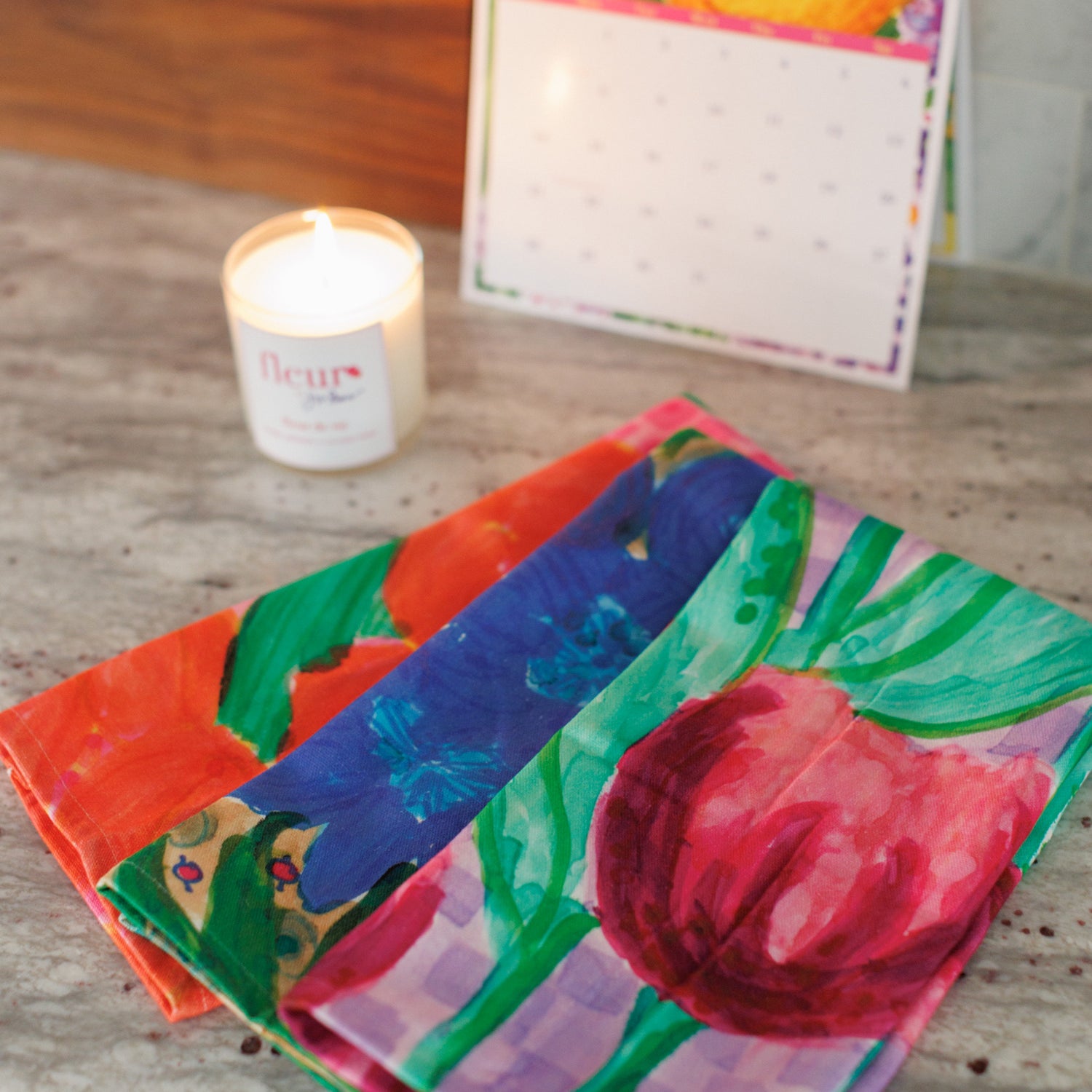 SHOP THE LATEST FROM LIZ SHEA
OUR MISSION & MANTRA
Never Give Up & 3.17
ALS (Lou Gehrig's Disease) is an insidious, fatal disease for which there is no known cure – yet. With an average life expectancy of 2 – 5 years, ALS patients endure unimaginable challenges. As the disease progresses, they gradually lose all muscle control, but maintain full mental capacity and awareness. For many, ALS not only debilitates the body, but can wreak havoc on the psychological and spiritual strength of both the person living with it, and the people who care for them. But Liz and her family steadfastly refuse to let ALS break them. 
When Liz's husband Ed was diagnosed with the disease on March 17, 2000, the Shea family took a hard stand to "never give up". To face ALS with optimism. To live intentionally and find the joy in each day. And after over two decades of living with the disease, Ed is a living miracle. In recognition of Ed's ALS diagnosis date, Liz supports Ed's ALS journey by walking 3.17 miles daily. Team Shea also participates annually in ALSA Charlotte's Walk to Defeat ALS.